Meet Dr. Leong Wong
Discovering the Chiropractic Lifestyle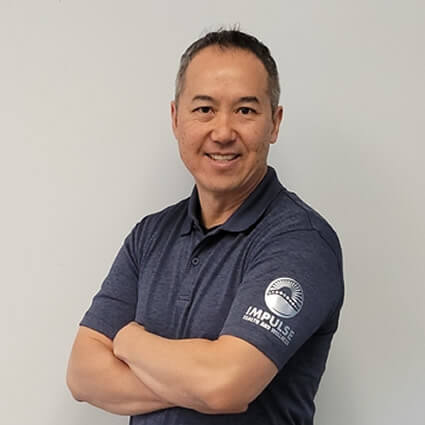 "When I was younger, I was heavily into many sports and had a keen interest in exercise, the human body and kinesiology. So it seemed natural that I'd go into a field related to those areas." Dr. Wong also had some back and sport injury issues, and someone recommended that he see a chiropractor.
Though chiropractic helped him immensely, he found it interesting that chiropractic wasn't just about physical aches and pains, but instead a lifestyle that can promote better overall health and well-being. "I had more energy, better posture and I could perform better in sports and exercise following care."
Dr. Wong discovered that chiropractic is similar to eating healthy, exercising and thinking positive thoughts. Chiropractic impacted his entire life and inspired him to become a chiropractor.
CHIROPRACTIC CARE »

Attaining a Chiropractic Education
Dr. Wong attended the University of British Columbia in the Bachelor of Science program. Then, he took Kinesiology at Simon Fraser University and finally received his Doctor of Chiropractic from the Canadian Memorial Chiropractic College. Dr. Wong also has completed a specialty and has his Fellowship in the College of Physical & Occupational Rehabilitation (FCCPOR) through a program at New York Chiropractic College. He's also a member of the following:
Improving The Health of Others
Outside of family, I'm also dedicated to becoming a better chiropractor. I spend a lot of time learning how I can serve you better and thinking of new ways to help our community." Dr. Wong is often outside of his office traveling because he regularly attends conferences and also often travels to speak to and mentor other chiropractors.
Dr. Wong is passionate about helping as many people as possible live healthier lives without the use of medications. "Not only has chiropractic care changed my life, but it's made me passionate about helping people. I believe the true principle of chiropractic care is to help you reach your full potential of health and wellness by removing all interference in your innate ability to express true health. We do this so you can reach your God-given potential in life."
"Taking care of ourselves reduces our health-related problems. So, I'll inspire you through education and example of how chiropractic care, eating right, stress management and exercise helps ensure your body stays healthy and well."
Many people are stuck in their ways of behavior and thought patterns that don't allow them to make changes. Is that you? If so, Dr. Wong is here to help you make that change.
An Active Family Life
I love to spend most of my spare time with my family. My wife Fenella and our lovely daughter Jadyn mean the world to me." Dr. Wong also enjoys traveling around the world with his family. "We've been fortunate to travel to many countries and will continue to discover more of nature's beauty. We especially love hiking trails and scuba diving." Dr. Wong is also an avid CrossFitter!
Dr. Wong practices a healthy lifestyle including eating a healthy diet, avoiding processed foods, avoiding sugar, replacing bad fats with healthy fats, and avoiding toxicity from various sources. "I strive to eat the best as I can for a healthier and better lifestyle."
Helping the Community
Dr. Wong is also involved with the ChiroMission Organization.
"Our last mission trip was to the Dominican Republic where we help people that are less fortunate. We also raise funds to help the orphanage that houses over 40 children. My wife and I love serving the people who are in need and most of all, the children in the orphanage."
Dr. Wong is also collaborating with a local group in Surrey called the City Dream Centre. His goal is for his office to provide chiropractic care for the needy in the inner city.
Book Your Appointment Today
If you'd like to achieve peak health, naturally, we invite you to contact us today to schedule an appointment with Dr. Wong!

Dr. Leong Wong | (604) 951-8959