Meet Dr. Christopher Leong
The Journey
Dr. Chris has always had an interest in health and performance. This interest turned into a bachelor's degree in Kinesiology and Health Science at the
University of British Columbia
, where he worked and trained with varsity athletes and Olympians.
This passion for health led Dr. Chris to Toronto, where he graduated from the Canadian Memorial Chiropractic College, ready to make a difference in people's lives.
It wasn't until he started practice, that he realized how important health really is. "When a patient tells you that prior to treatment, they were suffering from anxiety and depression because of the state they were in, and that they couldn't play with their children because of the pain they were dealing with, it really opened my eyes to how powerful Chiropractic could be."
Dr. Chris is known for his upbeat attitude and willingness to try new things. He appreciates hard work and kindness. He believes that health is the greatest asset we have and it should be a fundamental pillar in how we live.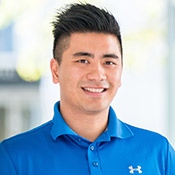 Supporting children and families through Chiropractic
Children respond to chiropractic care positively in many ways with their health. Feel free to contact us to find out how your child may benefit from chiropractic care.


Committed to Living Well
Dr. Chris' mission is to empower his patients to become happier and healthier through proper lifestyle choices. He enjoys exploring the great outdoors and loves hiking the North Shore mountains. He notes that the best views come after the hardest climbs. "I can't wait to see you at the top."
This photo is Dr. Chris atop Brunswick Mountain, the highest peak on the North Shore at 1790M.
If you want to explore how Dr. Chris can change your life, call us now to schedule a consultation: (604) 951-8959.
---
Dr. Christopher Leong | Impulse Health and Wellness | (604) 951-8959